ICONIC STAGE
ICONIC STAGE
美味しく、美しく、サステイナブルな自然の流れに添ってつくられたものを楽しみたい。
そんな食のスタイルを叶えるのが、ICONIC STAGEのお料理やスイーツです。
食材として使われるのは、同じビル3階のSustainuS farmで水耕栽培された数十種のエディブルフラワー(*1)やハーブ(*2)、葉物野菜(*3)たち。
これらはLEDの光によって無農薬で丁寧に育てられ、2階のICONIC STAGE kitchenにてつくられるスイーツや、1階cafeのお料理に使われます。さらに、近郊の契約農家からこだわりの規格外野菜も日々届き、フードロス削減にも貢献します。
摘みたての味や香りの際立つICONIC STAGEオリジナルメニューを手がけるのは、出張料理の第一人者・マカロン由香氏です。
フレッシュな食材は味も色も香りもあまねく生かされ、まるで絵画のようなスイーツやお料理へと転身。深いリラックスとリフレッシュを感じるメニューがお楽しみいただけます。
ここでの食体験をより深く知っていただきたく、SustainuS farmやICONIC STAGE kitchenはご見学できるようになっており、またcafe空間はシェアキッチンとしてもご利用いただけます。食にまつわる学びの場としてもご利用ください。
人にも環境にもやさしい循環の中でこそ、本物の美味しさが生まれます。
ICONIC STAGEとともにあるライフスタイルを、みなさまにお届けできますよう。
*1 ビオラ、ナデシコ、キンギョソウ等
*2 ルッコラ、バジル、クレソン、ディル、レッドソル、イタリアンパセリ、セルフィーユ、パクチー、タイム、スペアミント、ローズマリー、レモングラス等
*3 シルクレタス、フリルレタス、小松菜等
We want to enjoy food that is delicious, beautiful, sustainable and created according to the cycle of nature.
ICONIC STAGE's dishes and sweets made this style of eating come true.
Dozens of varieties of edible flowers (*1), herbs (*2) and leafy vegetables (*3) are grown hydroponically at the SustainuS farm on the third floor of the same building.
These are carefully grown without pesticides using LED light and are used to make sweets in the SustainuS kithen on the first floor and dishes in the café on the ground floor.
We also receive a daily supply of non-standard vegetables from contract farmers in the local area, helping to reduce food waste.
The ICONIC STAGE's original menu, which stands out for its freshly picked flavors and aromas, is created by Yuka Macaron, a leading expert in catering.
Fresh ingredients are transformed into picturesque sweets and dishes that are full of flavor, color and aroma. Enjoy our menu that will leave you feeling deeply relaxed and refreshed.
The SustainuS farm and SustainuS kitchen are open to visitors who are interested about the food experience here. The café space can also be used as a shared kitchen and a place to learn about food.
Only in a cycle that is friendly to people and the environment can truly delicious taste be created.
We hope to share with you ICONIC STAGE's lifestyle.
*1 Viola, Dianthus, Snapdragon etc.
*2 Rocket, Basil, Watercress, Dill, Red sorrel, Italian parsley, Chervil, Coriander, Thyme, Spearmint, Rosemary, Lemongrass etc.
*3 Silk lettuce, Frill lettuce, Komatsuna etc.
RF

RF roof terrace

5F

JOBIA

4F

JOBIA reception

3F

SustainuS farm

2F

ICONIC STAGE kitchen

1F

Iconic stage patisserie
Iconic stage cafe
1階patisserie&cafeをご利用される方は、3FのSustainuS farmを見学可能です。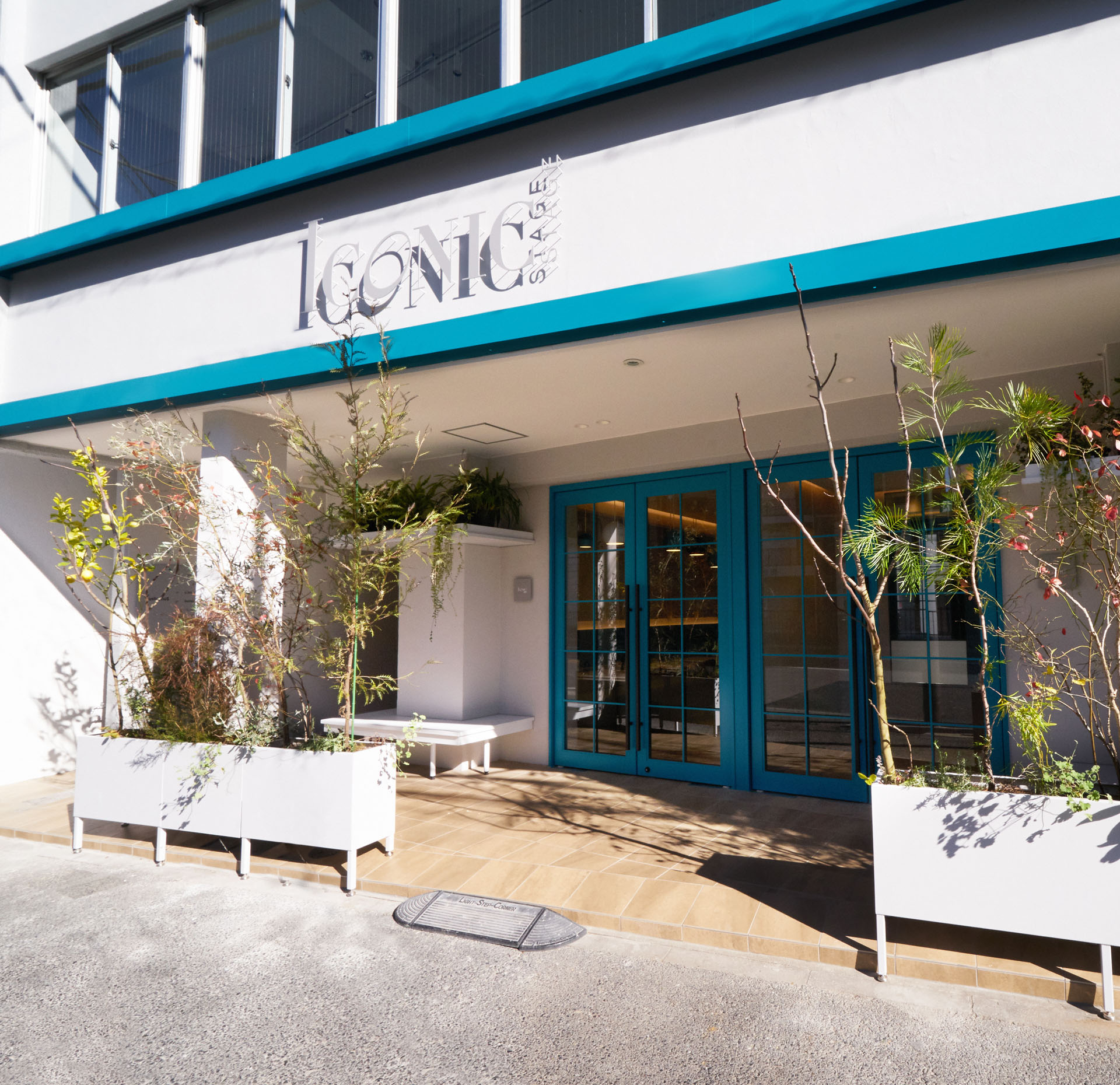 総合ディレクション
Macalon YUKA
マカロン由香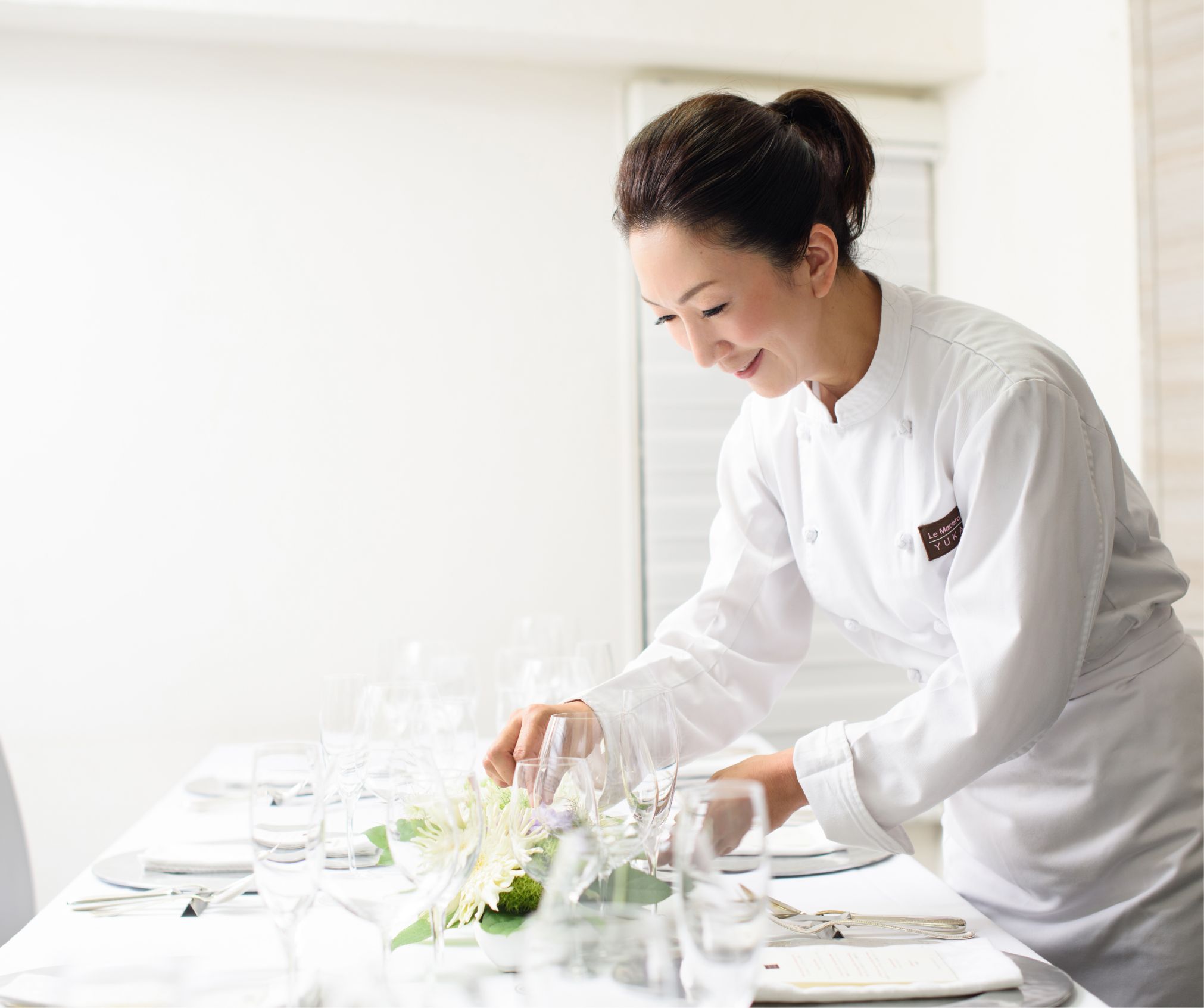 総合プロデュース
Macaron YUKA
マカロン由香
エコール辻東京フランス・イタリア料理マスターカレッジ卒業後、渡仏。パリのエコール・リッツ・エスコフィエで学び、ディプロマ取得。「Paris Hôtel Ritz パリ・オテル・リッツ」メインダイニング「Espadon エスパドン」、三つ星レストラン「Ledoyenルドワイヤン」、三ツ星レストラン「Arpège アルベージュ」といったパリの名店にて修行を積む。
日本における出張料理をスタートさせた女性シェフとして活躍中。ケータリングとは差別化し、食空間コーディネートを含め、その場でお客様の為にコース料理を調理するスタイルを確立する。フランス料理ガストロノミーの出張料理人として、大使館や企業レセプション、企業会長まで、クライアントも幅広く著名な方のプライベートシェフとしてフルコース料理・スイーツまで唯一無二のお客様にあわせたスタイルの出張料理を請け負う。2010年に横浜で開催された日本APEC(エイペック)首脳・閣僚会議晩餐会では食空間コーディネートを担当する。
東京・代官山ではプロも多く参加するフランス料理・イタリア料理のスクール「料理教室 Le Macaron YUKA」を経営する他、レシピ開発・企業商品開発、講演、雑誌掲載、テレビ・ラジオ出演など多岐にわたり活躍中。
近年は監修プロデュース業も広げ、青山ELLE café 監修、「リビエラ青山」「リビエラ東京」ウエディング監修、沖縄「ULTRA BLUE」レストラン、沖縄ヴィラ「Birth」ウエディング・レストラン監修、起業ゲストハウス監修などを手がける。
Later graduating from Ecole Tsuji Tokyo, French and Italian master college, she moved to France and received a culinary arts diploma from Paris' Ecole Ritz Escoffier.
She has trained at some of the most prestigious restaurants in Paris, including "L'Espadon" the main restaurant of the "Ritz Paris", and three-star restaurants "Pavillon Ledoyen" and "L'Arpège".
She is one of the first people to start catering in Japan. However, she has established a style that differentiates from catering by cooking a course meal for her clients on the spot and also coordinates the dining area. As a French gastronomy chef, she is requested by clients from all over the country including embassies, corporate receptions, politicians, chairmen of companies and artists and is able to offer a unique and personalized style of cooking, from full course meals to desserts. In 2010, she was in charge of coordinating the dining space at the Japan APEC Summit and Ministerial Meeting Dinner in Yokohama.
In addition to running "Le Macaron YUKA", a French and Italian cooking school in Daikanyama Tokyo, where many professionals participate, she is active in a wide range of fields, including recipe development, corporate product development, lectures, magazine articles, and TV and radio appearances.
In recent years, she has expanded her business to include supervising businesses such as, the ELLE café in Aoyama, weddings at "Rivera Aoyama" and "Rivera Tokyo", the restaurant "ULTRA BLUE" in Okinawa, weddings and restaurants at the villa "Birth -the suite-" in Okinawa and guesthouses in entrepreneurial businesses.